This is a guest blog post by the organisers of the Kennington Literary Festival.
The Friends of Kennington Library were delighted when the legend that is Brian Aldiss accepted our invitation to speak at our village literary festival.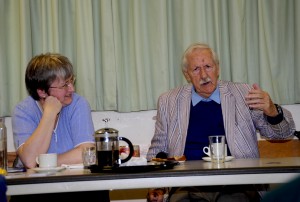 Sylvia Vetta, the Chair of the Friends of Kennington Library had the privilege, in February 2010, of banishing Brian to her desert island in the series she writes for the Oxford Times. Fortunately he managed to transport himself off the island and arrived safely at Kennington Village Centre on October 15, 2011.