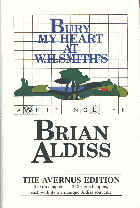 Publisher's Blurb
A writer's life can be exciting, unexpected, routine, lonely – and sometimes all on the same day! Brian Aldiss recounts the highs and lows of his professional career in this entertaining and revealing book.
Here are his adventures with publishers, booksellers, agents, other authors, and readers. Here are some of the complex questions of what makes and sustains a successful modern writer. The tales he tells are wry, witty, informative – beginning with his first job at the Oxford bookshop that was to be the setting for his first bok of fiction, The Brightfount Diaries, and ending as he undergoes one of the most gruelling experiences of a writer's life: the publication of a new novel, in this case his brilliant Forgotten Life.
Brian Says
This book was written intermittently. Years went by. I could never give it whole-hearted attention. It was never finished. There came a time when it had to be terminated, parcelled up, and sent to the publisher. So much for autobiography!
FIRST EDITION: Avernus, 1990