This World and Nearer Ones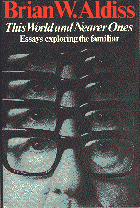 Publisher's Blurb
These articles and reviews come from a versatile writer, well-known as a novelist and, of course, as a distinguished author of science fiction. He writes here with characteristic humour on many subjects, linked by the theme of a complex unity of art and science which forms the inner mystery of science fiction, and reveals new aspects whilst 'exploring the familiar'. This is particularly marked in the first essay, 'Since the Enlightenment', written especially for this book, which traces strands of thought leading backwards and forwards in time. Most of the arts come under review: architecture, music, painting, the cinema.
Brian Says
An illustrated collection of mostly previously published essays on a wide variety of subjects, including literature, film, politics, current affairs, art and the author's own life.
FIRST EDITION: Weidenfeld & Nicolson. 1979