Best SF Stories of . . .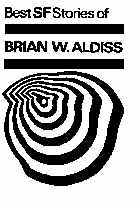 Publisher's Blurb
This selection of Aldiss's stories has been made by the author himself and it gives a superb panorama of his wide and inventive talent. The classic irony of 'Who Can Replace a Man?' is as stimulating as the sharp physical visualization of 'Poor Little Warrior' – a lesson in the dangers of big game hunting through time. Linguistic subtlety ('Ahead') contrasts with astronomical complexity ('The Impossible Star') – the fantasies of 'Old Hundredth' and 'The New Father Christmas' complement one another – and the human element comes into its heartrending own in 'Man on Bridge' and 'Man in His Time'.
Brian Says
A collection of fourteen stories, assembled to celebrate Aldiss's first decade of published work – and assembled rather hurriedly, to make a Guest of Honour appearance at the 1965 World Science Fiction Convention in London.
FIRST EDITION: Faber & Faber, 1965