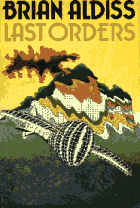 Publisher's Blurb
Brian Aldiss is a master of the unexpected and Last Orders shows him at his most imaginative, whether recording the last conversation to be held on Earth, introducing Stalin's Daughter, talking familiarly of alien beings, discussing Arab tourism, massacring animals on an unknown planet or inventing machines which will bring to life Holman Hunt's painting, The Awakening Conscience.
Several of the stories are set on the Zodiacal Planets ('the zeepees'), special Aldiss territory which is at one moment as actual as a NASA probe and, at the next, as inaccessible as tomorrow night's dream. Brian Aldiss has cast others within the form of 'enigmas', a framework which allows him room for some chilling and striking ambiguities.
At once sombre and witty, this splendid collection warns us what we might expect to find if a spacecraft landed in the human psyche.
Brian Says
A careful selection of what was, in the author's consideration, his most telling work from the mid-Seventies, including several 'Enigmas'.
FIRST EDITION: Jonathan Cape, 1977