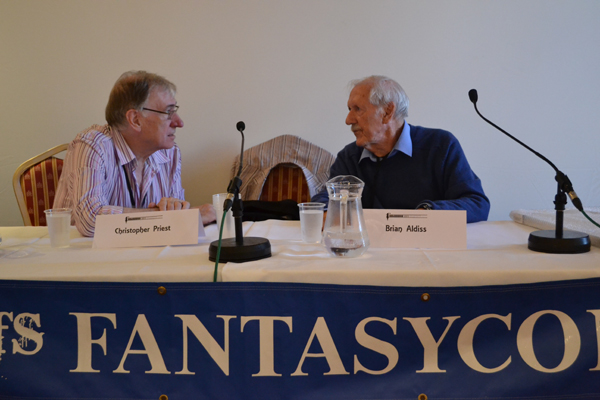 Brian spent last weekend in Brighton to attend the 2011 Fantasycon. It was a well organised event if a little more low key compared to the great memories I have of the Worldcon's that last happened in the Metropole hotel in Brighton (Dad was guest of honour at Seacon 1979, and I remember fondly seeing Michael Moorcock and Hawkwind perform at the Brighton Centre as part of Conspiracy '87 Worldcon – Dad was toastmaster).
Brian was involved in 2 sessions on the Saturday, a panel with other distinguished writers – Ian McLeod, Chris Priest and James Lovegrove – and a one-to-one interview with Chris Priest.
Familiar themes manifested themselves dring the panel discussion – those of classification of science fiction as a genre, of the fact that no one is writing 'classic' science fiction any more, how sci fi was never about prediction, how it has been written for a lot longer than the spaceships and aliens days and how there are no female sci fi writers these days.
The most striking take away for me was Brian's definition of SF being not about prediction of the future but more that it plays of people's desire for disorientation and the sense of an altered state – a real form of escapism. We talked about this further over breakfast on Sunday and he admitted that shortly after Greybeard was published he was approached locally to where we lived for drugs!
In the Q&A the panel talked briefly about how cultural advances, ubiquity of technology and the rate of change have made it hard to write even about the near future. An interesting observation was made about how Chinese science fiction today is very much like post WW2/cold war sci fi of the western world.
During Brian's interview with Chris Priest he was happy to talk about his long standing belief that science fiction has been around much longer than is widely accepted, stating Dafoe's Robinson Crusoe and Swift's Gullivers Travels as examples of this.
Brian also mention his time writing for Stanley Kubrick and subsequently Steven Spielberg. From an original 2000 word short story commissioned by Dr Chris Evans in Harpers Bazaar magazine – Supertoys Last All Summer Long – Brian ended up being paid £12,000 to write just one line into a short story that did end up in the final film of AI!
His advice to budding writers dealing with publishers? …fuck 'em, and keep on writing!
On Sunday he made a few comments as part of the closing banquet and had this to say:
Coming down off the stage I was met by a whole audience who suddenly stood and cheered and clapped and gave me a STANDING OVATION!  I was staggered.  I just stood there, almost in tears!  I mean really awesome!
Here's another write up of the weekend's activities: http://www.garysstrangeworld.com/page7.htm