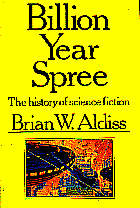 Publisher's Blurb
From Well's War of the Worlds to Kubrick's 2001, science fiction has become one of the great popular media of our time. It is denounced as inhuman; it is praised as the apocalyptic literature of our century. Science fiction is all things to all men: prediction, power-fantasy, escapism, popularisation of science, satire, social fiction, surrealism, symbolism, propaganda for and against technology. Yet curiously enough Billion Year Spree is the first comprehensive history of the subject to be published.
Aldiss, himself a past master at the genre, shows how sf was born in 1818, in the very heart of the English Romantic Movement, when Mary Godwin Shelley wrote Frankenstein Or, The Modern Prometheus. The novel was immediately successful, and the germ of its fearsome idea – of a man-made man – has flourished ever since.
Brian Says
A history of fantastic literature which is authoritative without being didactic.
FIRST EDITION: Weidenfeld & Nicolson, 1973