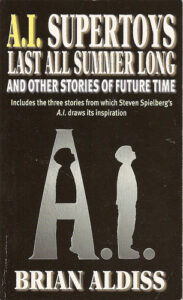 Here's an article in full outlining the fantastic deal struck by literary agent Gordon Wise at Curtis Brown for a very large chunk of Brian's entire back catalogue of work. Congratulations to Harper Collins!
Friday Project buys Aldiss backlist
HarperCollins imprint The Friday Project has acquired more than 50 titles by prolific author, and former Bookseller columnist, Brian Aldiss.

Publisher Scott Pack bought UK and Commonwealth rights in the titles—comprising literary fiction, sci-fi and non-fiction works—as well as Aldiss—entire short-story archive from Gordon Wise at Curtis Brown. The acquisition also includes six new titles, which The Friday Project plans to publish in e-book and print editions over the next four years.

The first of the six new works to be published will be Finches of Mars, out in September. Aldiss describes it as his "final science-fiction novel". It explores the problems of human colonisation of the red planet when female members of the civilisation are unable to carry babies to full term.

The other new works are All the Planets of the Zodiac, the final novella in the Supertoys series (which was made into the film "AI" by Steven Spielberg); Fortitude, a contemporary novel examining the clash of cultures in Britain; Jocasta, which retells the Oedipus myth; Walcott, an epic family saga spanning the 20th century; and Headless, a new short-story collection.

The reissues will begin in April with the publication of The Squire Quartet, four linked novels, charting life in Britain during the latter part of the Cold War. It follows Thomas Squire as he faces a mid-life crisis.

Aldiss said: "Everything seems to be coming together, including my work as a poet and a social observer, as well as the works of 'metaphysical realism'—the label I prefer to use rather than SF, which now seems dated."

Pack added: "There are still books by Aldiss that are published by other publishers, but now everything that wasn't being looked after is being looked after at one imprint. Some books we will publish as print editions, some as e-books, some as print-on-demand.

"It's realising that no bookshop is going to take 50 new titles by any author over the next few years, so really we're thinking which ones bookshops shouldn't be without, which ones fans would go wild for. It's being realistic about demand for each title."

Aldiss began his writing career at The Bookseller, penning a regular comic column under the name Peter Pica: The Brightfount Diaries, a fictional diary about the domestic life of a bookshop assistant during the 1950s.