From ereads.com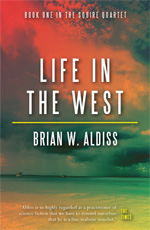 With Life in the West, E-Reads launches Brian Aldiss's Squire Quartet, back in print after thirty years and available in e-book for the first time.
Thomas C. Squire, creator of the hit documentary series Frankenstein Among the Arts, one-time secret agent and founder of the Society for Popular aesthetics, is attending an international media symposium in Sicily. It is here that he becomes involved with lovely, but calculating Selina Ajdina. Alongside the drama of the conference is the story of Squire's private life – the tale of his infidelity, the horrifying circumstances surrounding his father's death and the threatened future of his ancestral home in England.
Life in the West was selected by Anthony Burgess as one of the 99 best novels since 1939. The other titles in the quartet are Forgotten Life, Remembrance Day, and Somewhere East of Life.
We asked Aldiss to give us an overview of his quartet and he sent us a fascinating backgrounder, which you can read here. Amazingly, each novel was published by a different different publisher. Less amazing is Aldiss's admission that he wanted to strangle his literary agent. Doesn't everybody?
For the other books in the quartet, and a full roster of Aldiss's E-Reads reissues, click here.